Logitech Pop Keys keyboard review (with my own tests and a decision tree)
Today I have for you a review of an interesting keyboard – Logitech Pop Keys. Already after a quick glance, you can notice why it's an unordinary keyboard. It has different keycaps and an interesting design. However, is it any good?
In this article, I will help you answer that question. By the end of it, you will know if this keyboard is right for you or not.
Logitech Pop Keys
Keyboard with an interesting design, great build quality for the price, and many amazing advantages. Although it's not perfect. It comes with one main flaw that can decide whether or not this keyboard is right for you.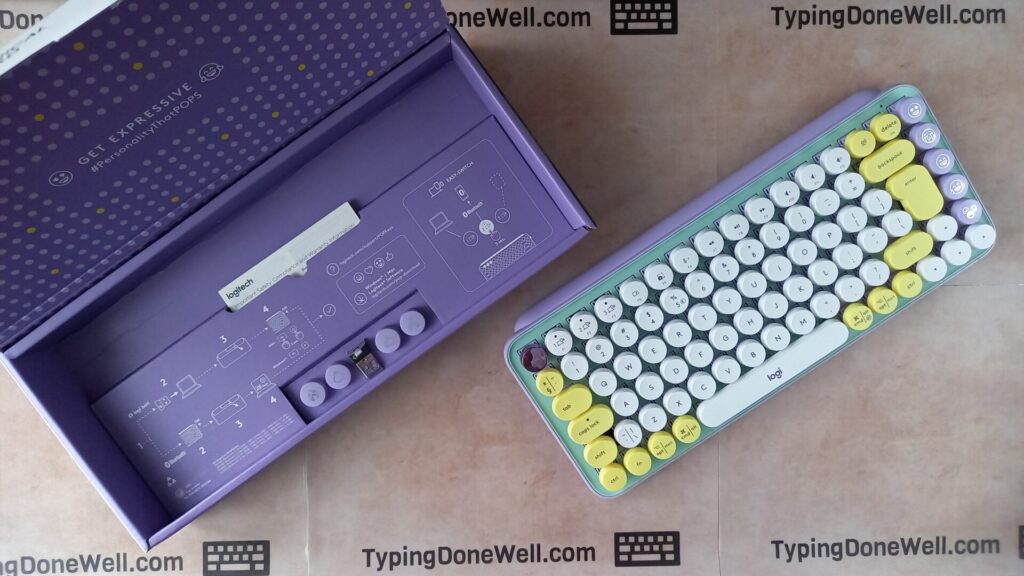 General information about Logitech Pop Keys
Logitech Pop Keys is a very interesting keyboard – its keycaps are round. Just like in old typewriter machines. That makes for a cool aesthetic in this keyboard – joining together the old-fashioned typewriter machine shape with new, bright colors.
That's not an old-style keyboard. But it's an eye-catching one, especially for its price. Although the question stays – is Logitech Pop Keys worth the price?
| | | | | | | |
| --- | --- | --- | --- | --- | --- | --- |
| Brand | Model | Switch | Switch type | Wireless or wired | Layout | Size |
| Logitech | Pop Keys | TTC Brown | Tactile | Both | US-QWERTY | 65% (customized) |
Logitech Pop Keys – Build Quality
I must admit, I was pretty surprised by the build quality of this keyboard. When you look at the photos (and the price) you expect to get something that distracts you with an interesting design but isn't the best quality.
In this case, Logitech did a great job designing this keyboard both in the aspect of looks (subjective) and build quality.
This keyboard has a good build quality, especially considering the price
The whole keyboard makes a good impression when it comes to quality. The plastic case is strong and seems that it will last years. It also has an interesting shape.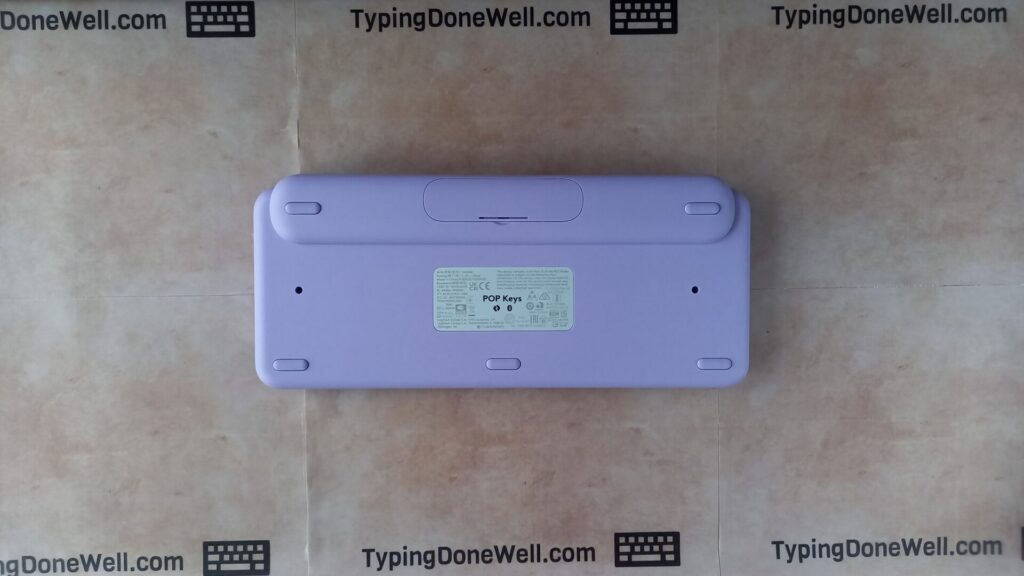 Looking at the underside of the keyboard – it's well-built too. Most of the time there's not much to say about the underside of most keyboards. However, Logitech Pop Keys has a battery there and that's a place where some bad things could happen with a bad design.
Logitech Pop Keys has a well-made place for the battery and USB connector.
You can see that the place for batteries and USB connector is solid and should give you no trouble for years. Of course, you need to be careful with the hinge that opens and closes – those are the quickest to brake.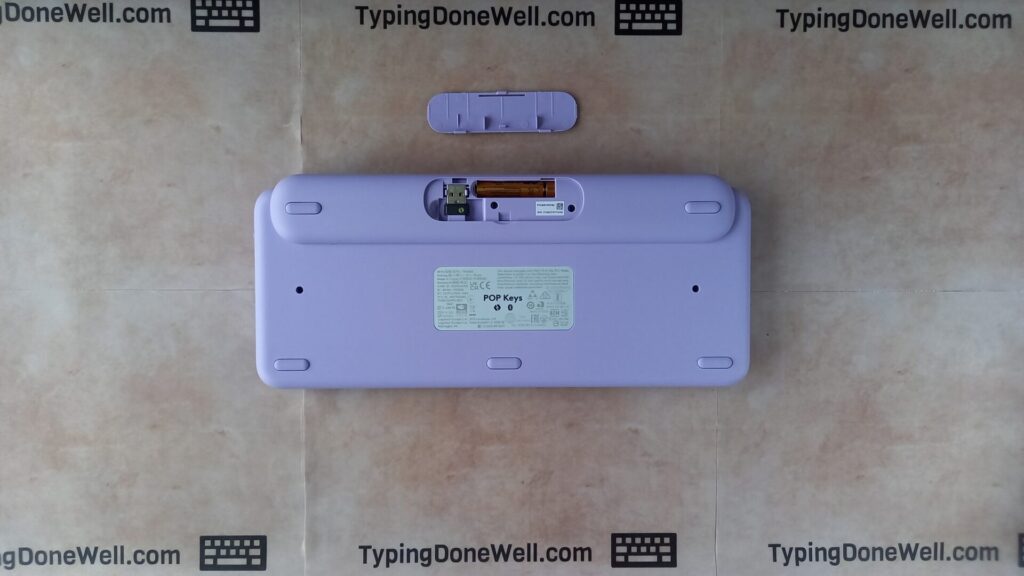 What's great is that Logitech Pop Keys comes with batteries already in the right place. They are only separated by a piece of paper-plastic. All you need to do is pull this piece out and the keyboard is ready to go.
The attention to overall quality is surprising in Logitech Pop Keys. It is actually a very well-made keyboard that can compare (when talking about build quality) to keyboards two times more expensive. Build quality is an aspect that Logitech Pop Keys developers nailed surprisingly well.
Keyboard X – Switches and Keycaps
Logitech Pop Keys comes with TTC Brown switches which are tactile switches.
For a keyboard of such price and not the best design from a practical standpoint the switches are pretty good. If you're a long-time keyboards enthusiast then they won't make a good impression on you.
Logitech Pop Keys has decent switches for its price. However, it's not something that will impress you about this keyboard.
Logitech Pop Keys doesn't seem like a keyboard that has the best switch quality in mind. Those switches are decent when it comes to quality. I actually wouldn't mind typing on them if the keyboard had a better layout. Typing on Logitech Pop Keys isn't bad at all until you have to press keys like Enter or Shift.
Logitech's Pop Keys switches are supposed to be tactile (meaning they have a slight tactile bump in the middle of key travel). In reality, those switches are something between tactile and linear.
Logitech's switches have a very slight tactile bump. Those feel more like linear switches than actual tactile ones. Keep that in mind if you're planning to buy this keyboard. If you like proper tactile switches this keyboard probably isn't for you.
Keycaps are surprisingly good. Even with their design and shape those keycaps feel comfortable to type on.
You don't need to worry about the keycaps ruining your experience with Logitech Pop Keys. I expected those to be one of the downsides of this keyboard. Surprisingly, Logitech made pretty good keycaps for their keyboard.
The quality of them is also way better than I expected. There are even keys with a "mirror" finish (not perfectly mirror finish, more like reflective). Those look pretty good too.
Logitech Pop Keys – Sound Test
Logitech Pop Keys comes with TTC Brown switches which are tactile switches.
Logitech Pop Keys actually doesn't sound that bad at all. I was expecting a below-average sound from a keyboard of this price which is advertised by the emoji keys. Many times such completely additional features are meant to distract you from the actual quality of a product.
It's not exactly the case when talking about Logitech Pop Keys. The keyboard actually sounds alright. I enjoyed typing on it not only because of the switches but also thanks to the sound this keyboard makes… As long as you don't hit the spacebar. It's awful.
However, how much you like a keyboard's sound is pretty subjective. That's why I made a sound sample so you can listen to this keyboard yourself:
Of course, the sound picked by the microphone and then played by your speaker isn't identical to the actual sound of the keyboard. However, it will give you an idea of what you can expect.
Logitech Pop Keys isn't a keyboard that you buy for premium sound. Luckily, this keyboard is at least quiet. So you don't hear the spacebar sound as much.
Logitech Pop Keys – Noise Test
Logitech Pop Keys comes with TTC Brown switches which are tactile switches.
Logitech Pop Keys is surprisingly quiet. It comes with tactile switches, which aren't necessarily that quiet. This keyboard's noise level is really close to the linear switches.
Logitech Pop Keys is a keyboard that you can use in the middle of the night with somebody sleeping next to you without waking that person up.
Here, I made a noise level test for you. It was while I was recording the sound sample for this keyboard. You can look at those tests side by side and get a bit of an idea about the sound that Logitech Pop Keys makes while typing: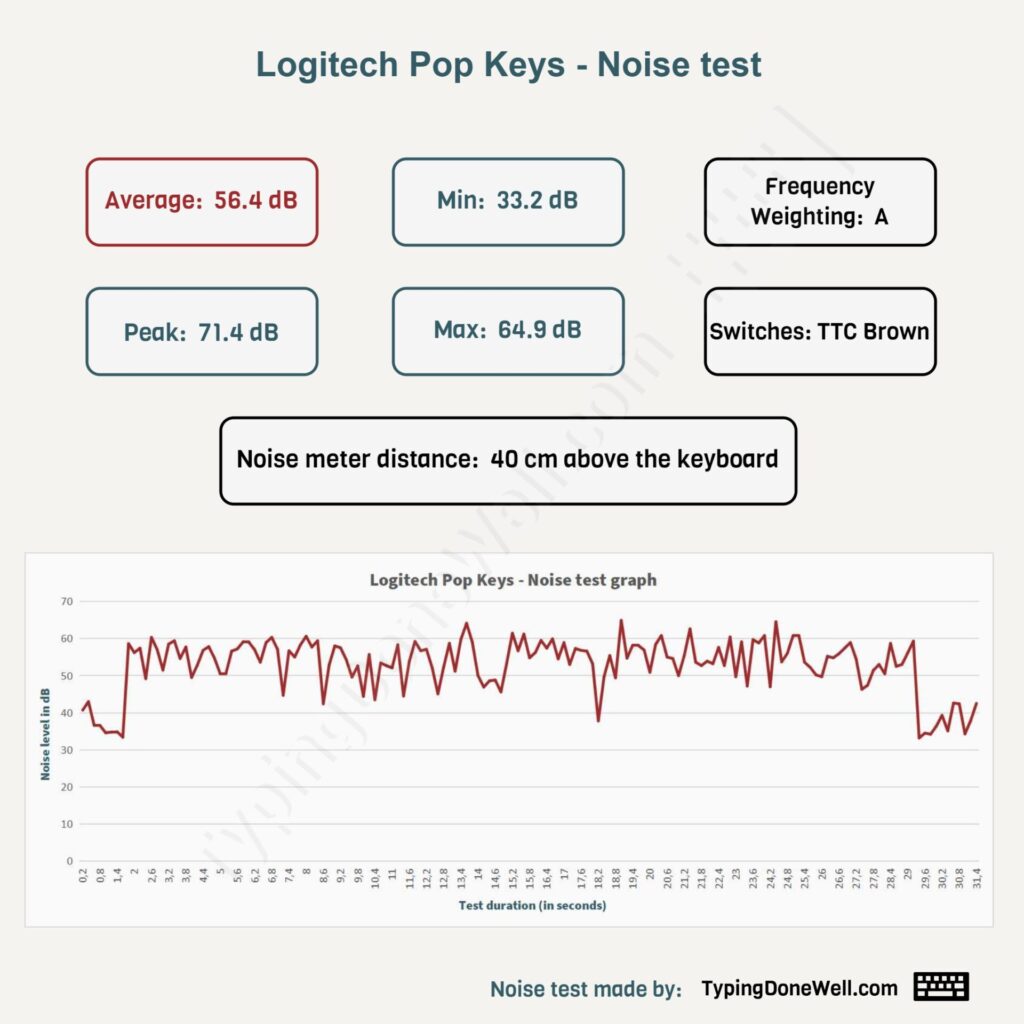 This is the exact reading that I got while doing a noise test. To really get an idea of how loud this keyboard is you can test it by downloading an app that makes a noise of a certain level. Or you can compare Logitech Pop Keys to other keyboards on my blog.
How ergonomic is Logitech Pop Keys?
At first, Logitech Pop Keys seemed like a good keyboard to type on. However, it didn't take me long to find a bad disadvantage in this keyboard's design. Once I noticed this one I knew that I couldn't use this keyboard much longer.
Ergonomic Flaw 1 – Enter key and Left Shift are hard to reach
Those two keys are in such weird places that you have to twist your whole hand in order to reach those. I don't know who thought it would be a good idea to make the Left Shift so hard to reach just to add another special character key that nobody uses.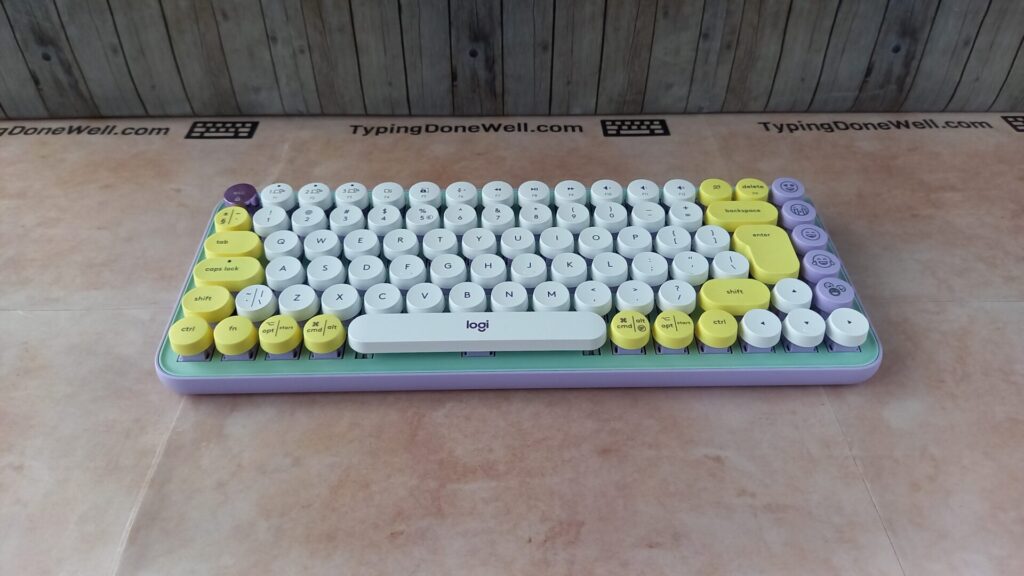 This is the worst deal-breaker for me when it comes to typing on Logitech Pop Keys. It's hard for me to type on this keyboard even for a short period of time. I can't imagine how you could actually type on this keyboard for longer.
Maybe there are people who don't mind stretching their pinkies that much. For me typing on Logitech Pop Keys is trouble just for this one reason.
Ergonomic Flaw 2 – The keyboard doesn't have regulated height
For me personally, it's not a big deal. I never use those height stands on any keyboard. However, if you're a person who likes to raise their keyboard a bit Logitech Pop Keys might not be for you.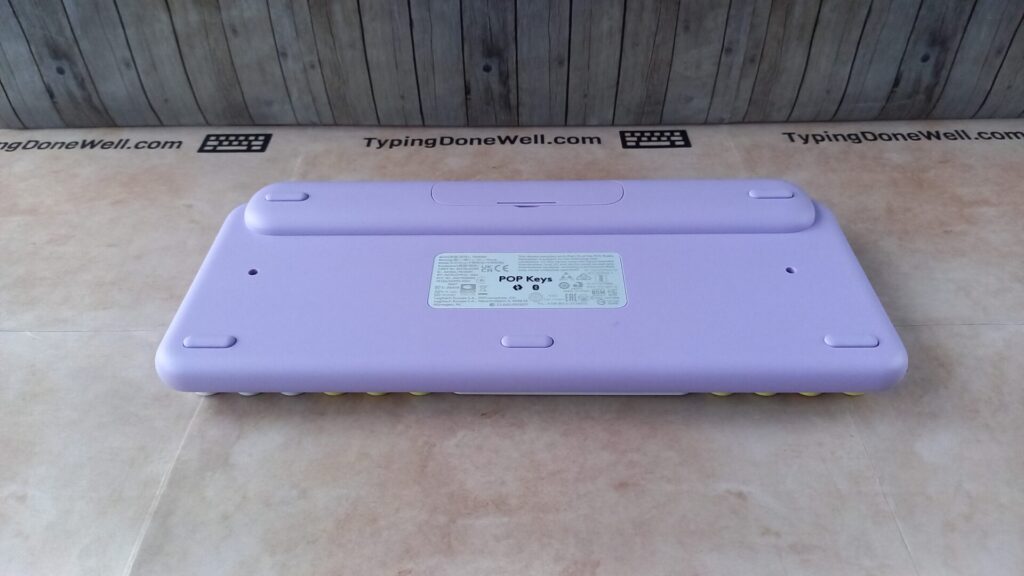 The keys on Logitech Pop Keys are pretty high already. That's because the keyboard itself is pretty thick. But there's no height adjustment so you won't be able to raise it more.
Ergonomic Advantage 1 – Switches and keycaps make for a comfortable experience
If I forget about the horrible placement of Left Shift and Enter, Logitech Pop Keys is pretty comfortable to type on. I actually really enjoyed the combination of switches and keycaps. It was actually nice to type on.
Switches have just enough resistance to make your typing comfortable and confident at the same time. Keycaps have a nice profile and a round shape which feels much more natural than the rectangular shape.
Honestly, it's a shame that Left Shift and Enter are so hard to reach because I would really enjoy typing on Logitech Pop Keys otherwise.
Logitech Pop Keys – Extra Features
1. Wireless Bluetooth connection
I'll be honest about this feature. At first, I was very skeptical and I didn't expect it to work that well. However, when I tried it this keyboard proved me wrong. This feature is so well-made that it's a real advantage in favor of this keyboard.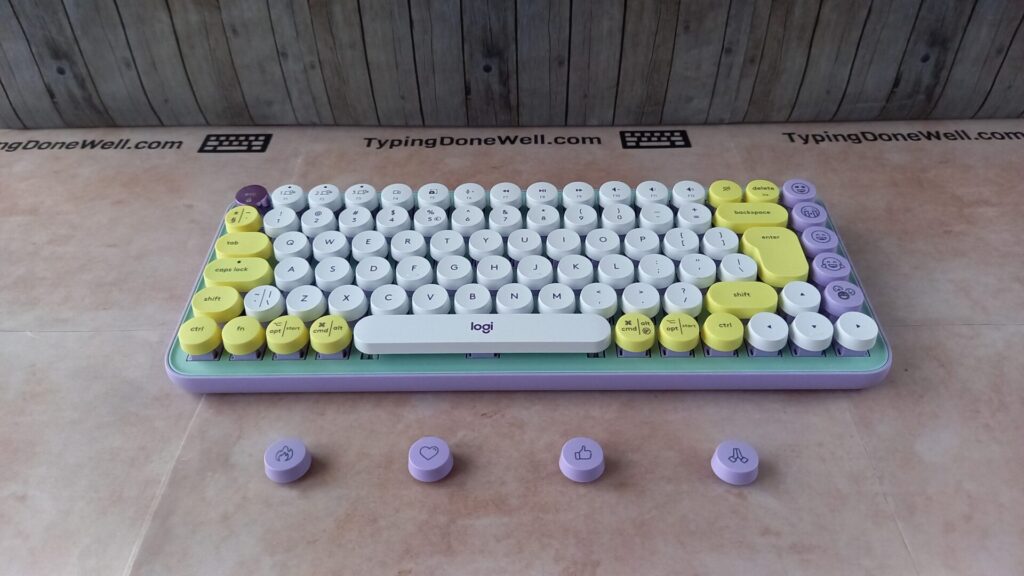 It took me a bit of time to figure out how to connect the keyboard to my phone. It is actually really fun to do. You first hold the key with the light on (F1) to change the mode to pairing. Then you try to connect the keyboard to your phone.
Next, you will get a code on the phone that you need to validate the connection. But how can you do that on a keyboard? It doesn't have a screen to say "Yes" or anything like that.
What you do is actually just type the exact code on the keyboard (it's only numbers) and then press Enter. The keyboard will remember what you wrote and connect with your device through Bluetooth if the code was correct.
I love the way the Logitech Pop Keys keyboard connects through Bluetooth!
My opinion about Logitech Pop Keys
I must say that I really enjoyed reviewing this keyboard. It is fun, different than the others, and really affordable. It has good switches for its price and all the other cool advantages that I talked about in this review.
However, this one decision to add another special character key and move the Left Shift further away – destroyed the keyboard for me. Otherwise, it would be a good quality-for-price keyboard that's original and quite fun to type on.
Logitech Pop Keys is not a keyboard that you want for long typing sessions. It might be good for just general use. It's when you start typing on it for longer that you start noticing this design flaw. It's a cool concept but not much more.
Summary with decision tree
Logitech Pop Keys is a good keyboard. In my mind, it has a devastating flaw – the key placement which makes it uncomfortable to type for longer.
Still, it's a cool keyboard with alright quality for the price. From the design, build quality, switches, and keycaps all the way to the wireless connectivity which works great. Logitech Pop Keys is a very interesting keyboard but not for those who want to use it for long typing sessions.
To make it straightforward to choose if Logitech Pop Keys is for you I made a decision tree: